.tWisT.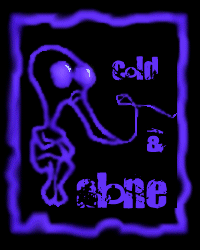 Magazine: Haunted Dreams
Acceptance Date: August '99
Publication Date: February '99

Comments:
Originally titled Get Together (crap, i know), this story is a kind of DeSade-like romp but with two of the most blandly annoying characters i have ever written. They could easily be the main characters in any Dean Koontz novel (except they don't have token fucked-up backgrounds) or Richard Laymon novel (except there's no 'fat pervert' running around in his underpants). Mildly sexual, it turns into a bit of a frenzy at the end.