.thE.aBdUcTioN.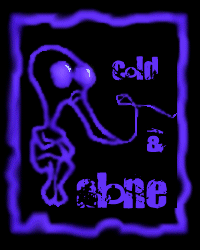 Magazine: Sci-Fright
Acceptance Date: February '99
Publication Date: February '00 *published*

Comments:
Another fairly early acceptance. Makes me more paranoid. It shouldn't happen like this. Amn't i meant to toil for months on end and live on bread? The Abduction is a psyko-paranoia piece. (And not a particularly good one either). A man who beleives himself to be an abductee captures a creature and is determined to prove to his ex-wife that he isn't insane. At the same time a neighbourhood child goes missing. But are the two related? As i wrote it, even i wasn't sure.